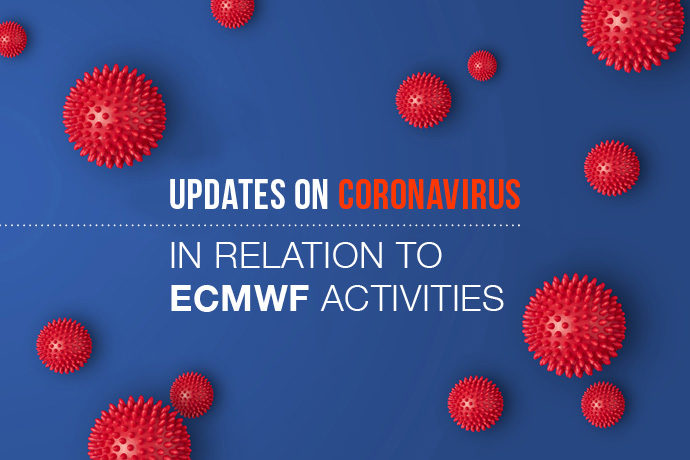 As the situation around COVID-19 continues to evolve, most ECMWF staff, whether in Italy or in the United Kingdom, are now working remotely. The operation and delivery of our mission-critical activities are not affected. Staff will continue to be available via email. For updates on our events, please check the relevant pages on this website.
Update of 7 April
Cycle upgrade 47r1
Progress with cycle 47r1 model upgrade is going well, with operational testing underway and documentation being finalised. Users are being kept informed through the usual channels, and there will two sets of webinars, the first one focusing on the scientific aspects of the cycle on 21st and 22nd April, and the second one focusing on the operational aspects on 27th & 28th May.
We are aiming for the implementation to take place 30th June 2020, following a month of data being made available to users for external testing by stakeholders and customers.
Loss of aircraft observations
The substantial decrease in flights across the world has led to the loss of important observations collected by aircraft and used by forecasting models around the world. Recent figures show a decrease of 80% of such observations in Europe and 60% globally.
The community has quickly reacted to try and tackle this loss. EUMETNET has coordinated extra radiosonde launches by national met services across some of our member states. The private sector is also contributing by making their observations free to use in our models. We are starting to receive extra aircraft observations from another source of more regional aircraft, courtesy of a private company based in Canada and the US called FLYHT - although they are also seeing reduced data volumes.
Importantly satellite data are largely unaffected and new data sources are being introduced as normal, including Aeolus lidar winds in January and COSMIC2 radio-occultation data in March. Both of these give clear benefit to the ECMWF forecasts but they do not directly replace the aircraft reports.
Update of 19 March
Staff
ECMWF staff based in Italy have been working remotely since Monday, 24 February, and most staff located at our Reading headquarters are now doing so too. Personnel whose physical presence is required in the building will continue to operate from their workplaces. Measures have been put in place to ensure the highest possible level of protection for those staff.
Provision of data to our Member and Co-operating States and users worldwide
There are for now no implications for the delivery of our mission-critical activities, and our data continue to be made available to our users in the usual way. We have activated our Business Continuity Plan and are keeping our users informed through the usual channels.
Provision of training and workshops
Recent training courses and workshops have been delivered remotely. We are reviewing each event on a case-by-case basis to ensure that all options are being considered. Specific updates for each event are posted on the relevant event web page.